COSMIC Release v92 is live!
Head over to our release notes to find a detailed description of the content of this release, including a summary written by our expert curators for the genes in focus.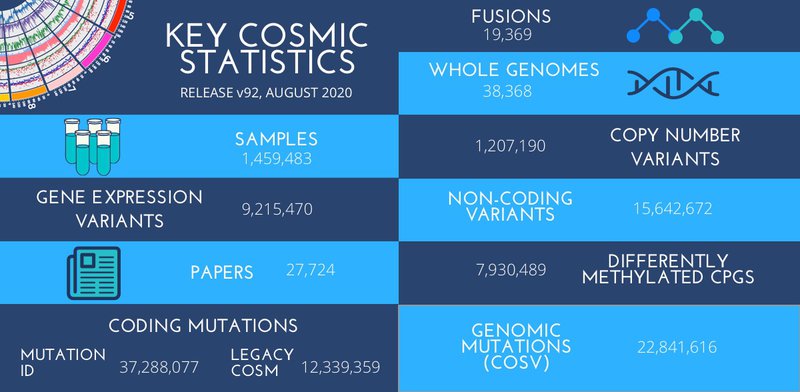 Summary of our updates for v92
We have performed high-quality manual curation with 2 new expertly curated genes FGFR4 and CDK12. We have also had a curation focus on spliceosomes, updating the following existing expertly curated genes: SF3B1 , SRSF2 , U2AF1 and ZRSR2.


We have added two new gene drug pairs for the resistance data, ALK-Lorlatinib and ALK-Brigatinib. In addition to this, we have made substantial updates to the transcripts, mutations and samples for all of the existing gene drug pairs.
We have aligned the website with the downloads, by merging the SNPs and noSNPs databases as a response to user feedback. This is so that the download files are exactly what is displayed on the website.. The SNPs are still going identified in the download files as before. They remain on the website, with the full mutation information displayed.


In response to user feedback, we have provided a completely new Hallmark download file. This is a manually curated resource which will continue to expand and build upon the high-quality Cancer Gene Census project that COSMIC is well known for.


We have updated the VCF files to update mutation syntax with the latest HGVS syntax formats and to improve existing annotations.


We have added the gene IDs, gene names and exon numbers for the 3' and 5' genes to the fusion download file.


We have added phenotype ID for the primary tissue and histology in the Sample Features file to help uniquely identify samples.
Our taster files are available to access now, located on the bottom of our Licensing page.
Read more in our release notes.
The Cancer Mutation Census
The Cancer Mutation Census (CMC) is an undertaking to classify coding mutations in COSMIC and identify variants driving different types of cancer.
We are often asked which are the mutations that matter the most - the CMC will help to answer this question! The CMC allows for the prioritisation of somatic mutations that introduce biologically relevant changes to protein function, and participate in the development of cancer.
Metrics including ClinVar significance, dN/dS ratios, and variant frequencies in normal populations (gnomAD) have been integrated into this resource. They have been used alongside COSMIC data on mutations' prevalence across 1,500 forms of human cancer. This helps to predict candidates for driver mutations in the coding portion of the genome.
For more information about the CMC, please read our recent blog or alternatively access the CMC now!
If you have any suggestions for content or functionality that you would like to see in a coming release, please contact us at cosmic@sanger.ac.uk.