COSMIC Release v94 is live!
Head over to our release notes to find a detailed description of the content of this release, including a summary written by our expert curators for the genes in focus.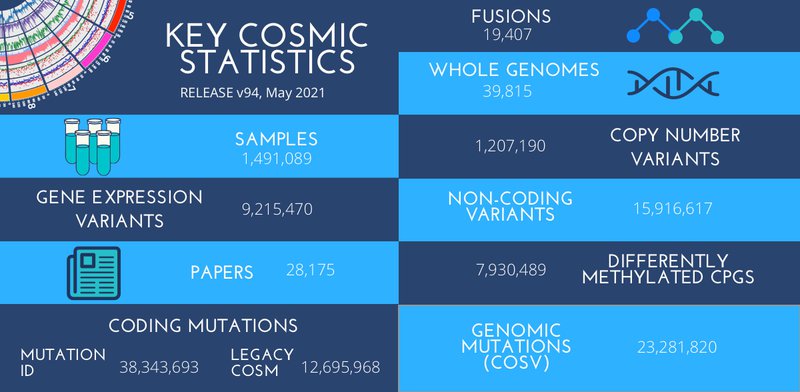 Summary of our updates for v94
We have performed high-quality manual curation with 2 new expertly curated genes MYCN and MAPK1. We have also had a curation focus on rare lung cancers, a curation focus on rare pancreatic cancers , and curation of somatic mutations in 12 hallmark apoptosis genes (BLM, CHEK2 , DDB2 , ERCC2, ERCC3, ERCC5 , RECQL4 , POLG, FEN , ELF3, MAPK1, FLT4 )
We have created cancer hallmark annotations for each of the 9 Cancer Gene Census Tier 1 genes (GATA1, COL2A1, CEBPA, CDKN2C, PTPN11, PTPRB, FOXL2, ACVR2A, ARHGAP26). By doing so, we are adding functional annotations for 9 genes causally associated with cancer which provide an overview of how the genes contribute to tumour development, in regard to the hallmarks of cancer.
Data for drug resistance is updated.
We are providing clarification on the changes to our terms of usage, for more details please check our licensing page.
For internal non-commercial usage of COSMIC - Core COSMIC website and downloads will always be free!
The registration for new commercial users on the COSMIC platform will only be available by contacting our Sales Partner, Qiagen, at bioinformaticssales@qiagen.com. Also, all the download files for commercial usage will only be accessible through Qiagen.
If you are a non-commercial user, please ensure you are registered with COSMIC and your account is verified and active. If you want to use COSMIC for commercial purposes, please contact our Sales Partner, Qiagen, at bioinformaticssales@qiagen.com to register your account.
We have changed our terms to clarify non-commercial and commercial usage of COSMIC. Please make sure you read and understand the changes on our licensing page.
Changes to our commercially-focussed download products, Actionability and CMC are available from Qiagen. Again, for licensing enquiries contact Qiagen at bioinformaticssales@qiagen.com.
Our taster files are available to access now, located on the bottom of our Licensing page.
Read more in our release notes.
Actionability
Actionability data has been fully updated. Many new trials have been added, the number of trials with results available has substantially increased, several new mutations are represented and a new gene, BTK, has been fully curated.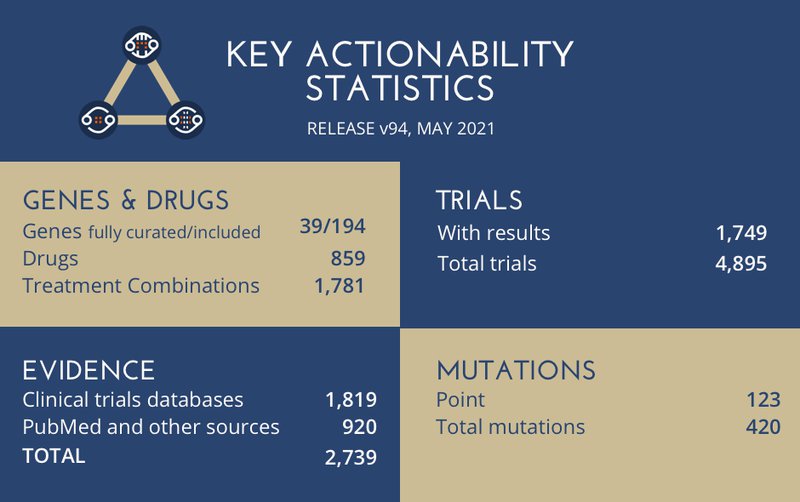 We have listened to the user feedback and have made changes to the Actionability download file, it includes a new Classification Id column (COSO) to link to our existing classification file. This will help to find complete disease classification in COSMIC, along with the NCIT code.
For more information about Actionability, please visit the site Actionability data.
If you have any suggestions for content or functionality that you would like to see in a coming release, please contact us at cosmic@sanger.ac.uk.