COSMIC Mutational Signatures: Release V3.1
This post signals the first of some very exciting new developments for COSMIC Mutational Signatures. Our main focus for this release has been to make a series of design updates, plus a small data update for the signatures. Looking ahead, we have recently employed a new software developer to expand COSMIC Mutational Signatures, a collaboration between Wellcome Sanger Institute, Cambridge, UK, COSMIC and the Alexandrov lab at the University of California, San Diego, USA. This sees an exciting future for the project, as part of the wider Cancer Research UK Grand Challenge Project 'Mutographs'.
In our latest release, you will be able to find the following:
New designs
Updated design for COSMIC Mutational Signatures landing page.
New preview of the mutational signature profiles, including proposed aetiologies.

New website for SigProfiler tools
With a few exceptions, the new v3.1 signatures were extracted using SigProfiler. We now provide a specific website for this comprehensive and integrated suite of bioinformatic tools for performing mutational signature analysis. The software covers the analytical lifecycle starting with the generation of the mutational matrix and finishing with signature extraction, as well as supporting functionality for plotting and simulation.

New design for all the signature-based pages: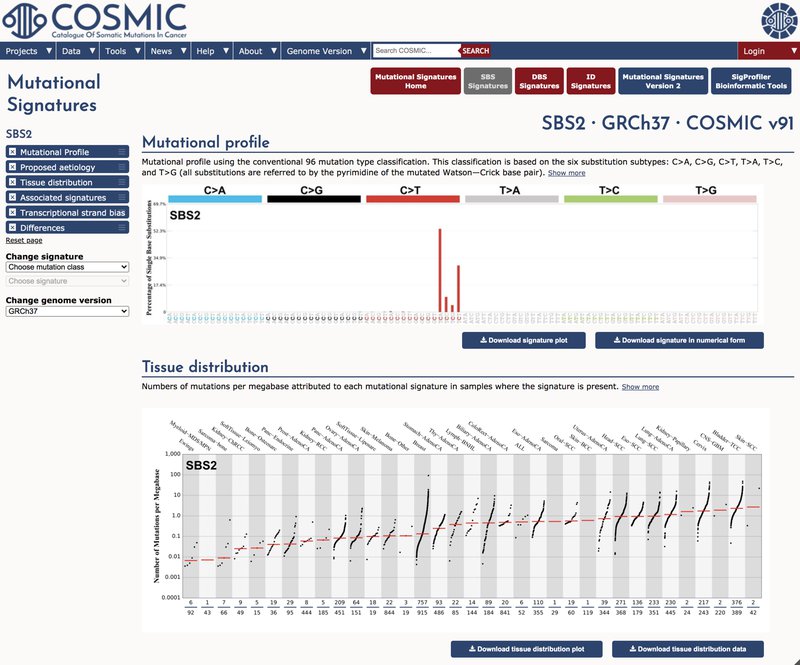 These pages, in most cases, support four different genome versions; human GRCh37 and GRCh38, and mouse mm9 and mm10. The data is neatly presented on the site and provides the option to download the plots plus the underlying data in CSV format.
New data
Single Base Substitution (SBS) Signatures
There are a total of 54 reference SBS signatures with five new SBS signatures added in this release.

Doublet Base Substitution (DBS) Signatures
There are 11 reference DBS signatures catalogued.

Small Insertion and Deletion (ID) Signatures
There are 18 ID reference signatures now catalogued with one new ID signature added in this release.

Two of the signatures are associated with colibactin exposure, SBS88 and ID18, one of which is the first microbiome-associated signature.
The following three signatures are associated with different cancer treatments, SBS86, SBS87 and SBS90, and one of unknown aetiology, SBS89.
If you have any comments or suggestions regarding what you would like to see in any of the COSMIC products, including COSMIC Mutational Signatures please email us on: cosmicengagement@sanger.ac.uk.
Please follow us on LinkedIn, Twitter, Facebook and our blog to keep abreast of the COSMIC news and developments.